About William Henry Seward
"Lincoln's Indispensable Man"
To most people the name William Henry Seward brings to mind the Secretary of State under Abraham Lincoln and Andrew Johnson. It was during Johnson's presidency that Seward negotiated the purchase of Alaska from Russia on March 30,1867 for 7.2 million dollars. At the time this purchase was thought to be a waste of money and was given the nickname of "Seward's Folly" or "Seward's ice box". (The cost was approximately 2 cents per acre). On Jan 3, 1959 Alaska became our 49th state . After Seward retired at the end of the Andrew Johnson administration, a neighbor in Auburn asked Seward what he considered his greatest achievement as Secretary of State. He replied,"The purchase of Alaska, but it will take the country a generation to appreciate it." The purchase of Alaska was a high point of a political career that spanned over 40 years and began in New York State.
William Henry Seward was born on May 16,1801, in an area of rolling hills and fertile farming county, just 60 miles north of New York City, the 4th of 6 children, to Samuel Seward, physician, landowner and land speculator in the small village of Florida. The Seward family came from Wales and William's grandfather was a colonel in the New Jersey Militia during the Revolutionary War. William Henry Seward was born in a house built in 1797 on the Main Road of the village. At the time there were only a dozen buildings in the village of Florida, located near the meeting house, The Presbyterian Church. The Seward house consisted of 5 rooms on the main floor with a staircase leading to a large loft made up of 2 bedrooms with sloping walls and a large chimney. The Sewards owned three slaves who lived in the kitchen and the attic above it. Henry spent time in the kitchen listening to the slaves tell stories and thought of them as people rather than slaves. In his autobiography written later in life, he referred to the slave quarters as "a refuge from the stern decorum of the parlor". He also saw a neighbor's slave being abused and at a young age and was incensed by the gross injustice.

William was a sickly child and his poor health caused the family to plan to send him to college. William started school in a one room school a half mile from his home. At nine, he was sent to the Farmer's Hall Academy in Goshen where he boarded. When he was fifteen he attended Union College, a liberal arts college in Schnectady and feeling that his clothing marked him as coming from a small village he ordered expensive clothing from a local tailor. His father refused to pay the bill and William rebelled, left college and traveled to Georgia where he found a job teaching in a small town. When his parents located him his father was angry and his mother distraught. (William Henry does not fit our picture of the well behaved child of the early 19th century and 21 century parents can identify with Williams moody, resentful behavior.) After nine weeks he returned home and completed his college education at Union College where he graduated Phi Beta Kappa and was admitted to the New York State Bar in 1821.
After studying law with Judge Miller in Auburn , New York, he became his partner and married the Judge's daughter Frances in 1824. They had 4 surviving children, Augustus, Frederick, William Henry and Frances (Fanny) While practicing law Seward entered politics in 1830 and was elected to the New York State Senate and then Governor in 1838 and 1840. As state senator and governor he promoted prison reform , increased spending on education, supported state funding for schools for immigrants and expanded the state canals and railroads.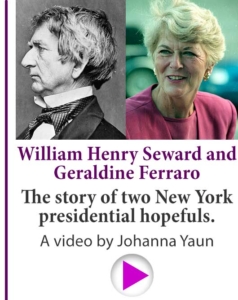 As U. S Senator, elected in 1849, Seward became the leader of the anti-slavery Whig Party. He believed that slavery was morally wrong. In 1858 he delivered a famous speech where he said that the free North and the Slave south would lead to an "Irrepressible conflict" and the nation would eventually become either an entirely slaveholding nation or an entirely free-labor nation. Although he was the favored candidate for President on the Republican ticket in 1860, he lost to "Dark Horse" Abraham Lincoln due to his strong stand on abolition. Despite losing the nomination, Seward loyally supported Lincoln in his campaign. When Lincoln was elected Seward accepted the position of Secretary of State and became Abraham Lincoln's "Right Hand Man". His greatest accomplishment as Secretary of State during the Civil War was keeping England and France from openly supporting the Confederacy.
William Seward has often been neglected and overshadowed by Abraham Lincoln. However, In 1873 Charles Francis Adams delivered a Eulogy of Seward at the N.Y. State Legislature. He said "It was Seward with his grasp of both domestic politics and foreign affairs who had carried Lincoln through the first difficult months of the Civil War".
---
Written by Linda Dubin and edited by John Kimiecik, of  The Florida Historical Society.
Bibliography
Florida, New York, Orange County, An early look at its Faces, Places, and Winding Staircases by the Florida Historical Society
William Henry Seward, Lincoln's Right Hand by John M . Taylor
35 North Main Street • Florida, New York • 10921
Contact: Seward/Mapes Homestead c/o The Village Hall of Florida • 33 South Main Street • Florida, New York • 10921 • 845-651-7626
Email: board@sewardhomestead.org